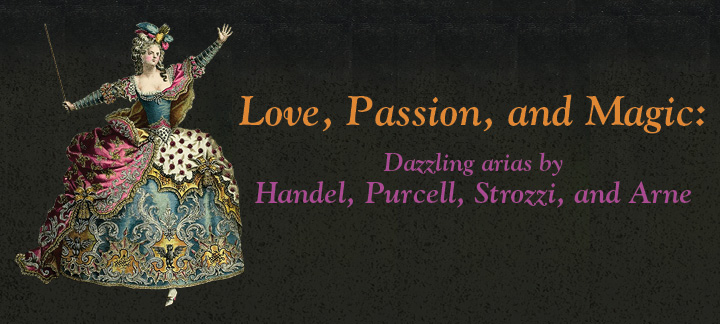 ---
La Fiocco performs at Laurel Hill: Music for a Sunday Evening.
Details coming soon !
---
Celebrated Soprano Laura Heimes

Special guest artist for June 6th and 7th.
Biography
Praised for her "sparkle and humor, radiance and magnetism" and hailed for "a voice equally velvety up and down the registers", soprano Laura Heimes is widely regarded as an artist of great versatility, with repertoire ranging from the Renaissance to the 21st century. She has collaborated with many of the leading figures in early music, including Andrew Lawrence King, ARTEK, Four Nations Ensemble, Tempesta di Mare, The King's Noyse, Paul O'Dette, Chatham Baroque, Apollo's Fire, Voices of Music, Pegasus Early Music, New York State Baroque, Brandywine Baroque, and Piffaro – The Renaissance Band, a group with whom she has toured the United States. She has been heard at the Miami, Boston, Berkeley, Connecticut and Indianapolis Early Music Festivals, at the Oregon and Philadelphia Bach Festivals under the baton of Helmuth Rilling, at the Carmel Bach Festival under Bruno Weil and Paul Goodwin, and in Rio de Janeiro and Sao Paulo, Brazil in concerts of Bach and Handel. With the Philadelphia Orchestra she appeared as Mrs. Nordstrom in Stephen Sondheim's A Little Night Music. Ms. Heimes made her Carnegie Hall debut in Handel's Messiah with the Masterwork Chorus and in December 2011 she appeared in an acclaimed staged production of the same work with the Pittsburgh Symphony under Maestro Honeck. Her most recent recordings include On The Just Treatment of Licentious Men (modern art songs by Peter Flint), Cantatas Françoises (music of Jacquet de la Guerre and Clérambault), Handel Duets and Trios; Oh! the Sweet Delights of Love: the songs of Purcell with Brandywine Baroque; The Lass with the Delicate Air: English Songs from the London Pleasure Gardens; The Jane Austen Songbook with Julianne Baird; and Caldara's Il Giuoco del Quadriglio with Julianne Baird and the Queen's Chamber Band conducted by Stephen Altop. A recording of the cantatas of René Drouard de Bousset is in preparation. Ms. Heimes has recorded for Dorian, Pro Gloria Musicae, Plectra Music, Sonabilis, Albany, Avian and Zefiro records.
---
La Fiocco is a period instrument ensemble specializing in the performance of the music of the late 16th, 17th, and 18th centuries.
 
| | |
| --- | --- |
| • | Our mission is to introduce people of all ages to music of the Baroque and early Classical eras. |
| • | Our principal activity is presenting concerts and demonstrations of the music of the 17th and 18th centuries, and to educate general audiences on the repertoire, esthetic and cultural-historical context of the music performed. |
| • | Our vision is to reach a wide audience base, extend our community outreach, and offer more varied programs, including new works written by early-career composers for period instruments. |

La Fiocco also performs new music by early-career composers who write specifically for the musical instruments used in the 17th and 18th centuries. We are based in Bucks County, Pennsylvania.  Our primary audience is eastern Pennsylvania, New Jersey, and New York. La Fiocco is named in honor of the South Netherlands composer Joseph Hector Fiocco (1703-1741).

La Fiocco's principal venue is Trinity Episcopal Church, Solebury, Pennsylvania. We also perform at the Guild for Early Music's Annual Festival at the Grounds for Sculpture in Hamilton, NJ, and at other venues. Check our concert listing for dates and locations.


---
 Press Coverage
La Fiocco is a State of Pennsylvania nonprofit corporation and a 501(c)(3) tax exempt organization.
La Fiocco is a member of the Delaware Valley Guild for Early Music and Early Music America.