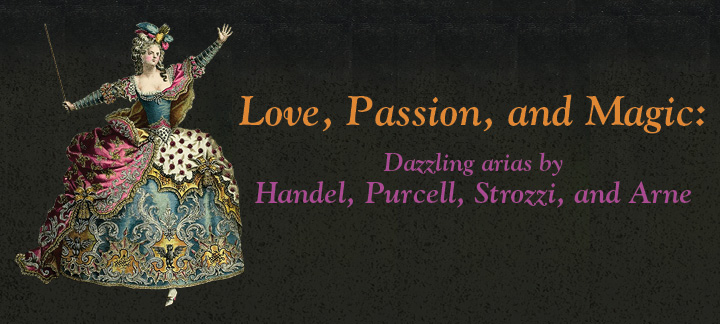 ---
Love, Passion, and Magic
Celebrated Soprano Laura Heimes is La Fiocco's special guest artist in a program of dazzling arias by Handel, Purcell, Strozzi, and Arne
Lewis R. Baratz, artistic director, recorder & harpsichord
Claire Smith Bermingham, Linda Kistler, & Dan McCarthy, baroque violin
Dan McCarthy, baroque viola; Vivian Barton Dozor, baroque cello
Lauden Schuett, lute & theorbo; John Lacombe, baroque guitar, Benjamin T. Berman, harpsichord


SATURDAY, JUNE 6, 2015, 7:30 PM – ST. PAUL'S CHURCH, 214 NASSAU STREET, PRINCETON, NJ
SUNDAY, JUNE 7, 2015, 3PM – TRINITY EPISCOPAL CHURCH, 6587 UPPER YORK ROAD, SOLEBURY, PA
---
La Fiocco is a period instrument ensemble specializing in the performance of the music of the late 16th, 17th, and 18th centuries.
 
| | |
| --- | --- |
| • | Our mission is to introduce people of all ages to music of the Baroque and early Classical eras. |
| • | Our principal activity is presenting concerts and demonstrations of the music of the 17th and 18th centuries, and to educate general audiences on the repertoire, esthetic and cultural-historical context of the music performed. |
| • | Our vision is to reach a wide audience base, extend our community outreach, and offer more varied programs, including new works written by early-career composers for period instruments. |

La Fiocco also performs new music by early-career composers who write specifically for the musical instruments used in the 17th and 18th centuries. We are based in Bucks County, Pennsylvania.  Our primary audience is eastern Pennsylvania, New Jersey, and New York. La Fiocco is named in honor of the South Netherlands composer Joseph Hector Fiocco (1703-1741).

La Fiocco's principal venue is Trinity Episcopal Church, Solebury, Pennsylvania. We also perform at the Guild for Early Music's Annual Festival at the Grounds for Sculpture in Hamilton, NJ, and at other venues. Check our concert listing for dates and locations.


---
 Press Coverage
La Fiocco is a State of Pennsylvania nonprofit corporation and a 501(c)(3) tax exempt organization.
La Fiocco is a member of the Delaware Valley Guild for Early Music and Early Music America.